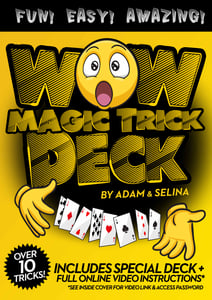 $

15.00
Astonish your friends with the amazing effects possible using this magic deck of cards and leave them spellbound!
Without doubt the most versatile set of trick cards in existence, the WOW Deck makes difficult sleight-of-hand fun and super easy to do!
What takes professional magicians years of practice and study can be mastered quickly and easily with the aid of Adam & Selina's instructional video and a WOW Deck.
With step-by-step video instructions, these tricks are extremely easy to learn. By freezing frames, jumping to specific performances and explanations, mastering these tricks becomes elementary for everyone.
The WOW Deck instructional video includes over 10 amazing tricks! Some of the effects includes:
• Force someone to choose a card you already know!
• Read your spectators minds!
• Make a spectator cut to their own card - blindfolded!
• Make a spectators card vanish from the deck and appear in your pocket!
• The entire deck visibly transforms into duplicates of the spectator's selection, then changes back!
• And much, much more